Amy Huberman finds Joy with impressive show debut
New RTÉ One comedy Finding Joy, which was written by and stars Amy Huberman, has become the highest-rating comedy debut of the year on the station after its premiere on Wednesday night attracted an impressive audience share.
The first episode of the comedy, which follows Joy (Huberman) as she is thrust into the limelight with a new job as a vlogger while dealing with a break-up, was watched by an average audience of 378,000 people, which represents a 30% share of the total audience watching TV at that time.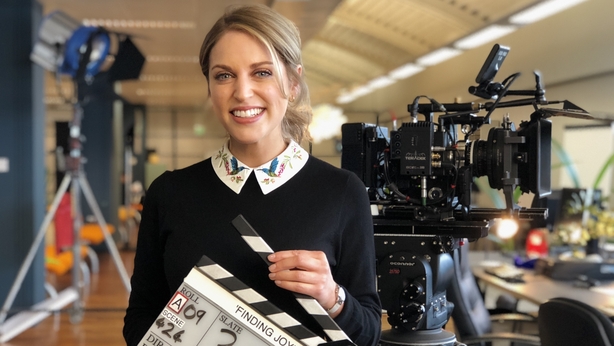 The show had a total reach of 604,000 people over the course of the episode, which takes into account viewers who watched at least a minute of the programme.
Ahead of the show's debut, Huberman told RTÉ Entertainment that she was looking forward to sharing the project with the world.
"It was always a dream, I always wanted to write my own show and I look up to so many actor-writers who have done that," she said.
"I feel really proud that we got it to this point because it's competitive out there and it's tough to get stuff made so I'm kind of pinching myself, I feel really lucky to be at this juncture."
Finding Joy airs on RTÉ One, Wednesdays at 9.35pm.
Roberts 'proud' to use star power to launch projects
Julia Roberts has opened up about using her star power to get projects off the ground and says she takes joy in being able to get projects over the hump.
The 50-year-old actress, who has her first leading role on television in the new Amazon Prime series Homecoming, said: "There's something that makes me really joyful when I believe in something and I love it so much, if it is in a place of not being able to get over that hump to go, that if I can push that.
"It makes me feel really proud, because if I want to do it, it has to get to that next level."
"I think in terms of my pride, my proudest, happiest moment of feeling that way was doing a play on Broadway a number of years ago.
"When I was a young person my dad took me to the theatre all the time, and I thought it was so special and how many people came up to me after the play and said 'I've never seen a play on Broadway before and I never would have come if it weren't for you'.
"That was when I felt the happiest, that I had brought people to something that I thought was so special."
Homecoming is based on Eli Horowitz, and Micah Bloomberg's popular serialized audio podcast and stars Julia as a small-town waitress, Heidi, who left her previous employment as a caseworker at a titular agency which helps soldiers rejoin civilian life.
The upcoming show also stars Bobby Cannavale, Stephan James, Sissy Spacek, Alex Karpovsky, Shea Whigham and Jeremy Allen White, and is set to be released on Amazon Prime Video on November 2.