Bjorn: We are facing one of strongest ever US teams
Europe captain Thomas Bjorn insists he and his team do not fear a revitalised Tiger Woods despite the 14-time major winner's spectacular return to form.
Bjorn said they were not scared of the 42-year-old, who ended a five-year drought with victory at the Tour Championship on Sunday, nor any of his stellar United States team-mates.
Woods has rocketed from world number 1,173 in December to 13th after finally breaking his barren spell at the PGA Tour's season-ending event.
He may have seen off the challenge of the likes of Justin Rose, Rory McIlroy, John Rahm, Tommy Fleetwood and Paul Casey at East Lake but that does not mean Europe's Ryder Cup players will feel any inferiority at Le Golf National this week.
"We don't fear anyone because we've played against them so many times before individually but we respect our opponents and know what we are up against," said Bjorn.
"That, I think, is key to all this. We'll go out and do what we can and play our game.
"What stands on the other side we know is one of the strongest American teams of all time.
"We do what we do as a European team and then we go out and take that onto the golf course – and that's all 12 Americans.
"It's not one individual, it's the whole team we are up against."
The United States team comprises six of the world's top 10 and 11 of the top 17, including number one Dustin Johnson, number three Brooks Koepka and number four Justin Thomas.
But none carry the weight that Woods does, even if his Ryder Cup record is poor by his previously high standards.
In seven appearances he has won 13 and lost 17 of his 33 matches, including just half a point from four matches on his last appearance in 2012.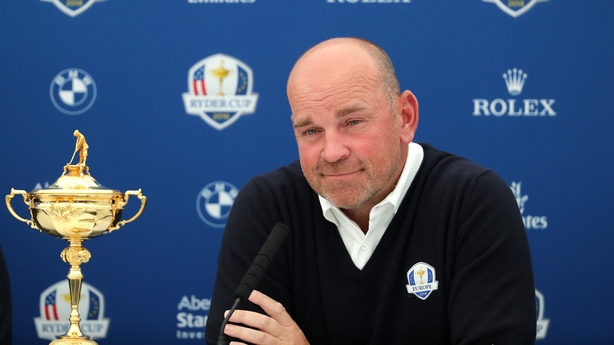 Much of that was put down to his singular, often aloof, attitude in the past which did not lend itself to a team environment.
But after back fusion surgery threatened to end Woods' career, he has returned a different, more approachable, character and many of his team-mates hung around at East Lake to see him win.
"Tiger played so well at The Tour Championship and to grab a hold of the golf tournament early and fend everyone off, I think was a good buzz in the team room," said USA captain Jim Furyk.
"A lot of the guys stayed out there at the course to congratulate him.
"He's played really well all year, I think. (He's) been knocking on the door at two majors and had a number of opportunities to win this year.
"When you look at now, maybe comparing past Ryder Cups to this one, I think what's so special is Tiger has engrained himself in our team atmosphere and became such a big part of the team in 2016 as a vice-captain, and then again in 2017 as an assistant captain at the Presidents Cup.
"I think it's special for him now to kind of join these younger players as a team-mate.
"You know, he won yesterday as an individual and I know how much that means to him and how important it was, but he's flipped that page pretty quickly and is really excited to join his team-mates and move forward in that process."
Even Bjorn had to admit he was pleased to see Woods back in the winners' circle.
"I spent 25 years playing professional golf with Tiger Woods and any time he does anything great, that's a story and that's where we want to see him," he said.
"We want to see him at the top of the game. He does so much for the game of golf. It was great for the greater aspect of the game.
"Him winning golf tournaments is something that's brilliant and I think we all benefit from it because in the end, whatever it is these 24 guys are going to do this week, the game of golf needs that boost of somebody like him that transcends the game to the masses, needs him at the top of the game.
"So for everyone in golf, it's brilliant."
Goal-happy Shelmaliers win first ever Wexford SFC crown
Shelmaliers 4-14 Kilanerin 1-07
Goals at the start of either half powered Shelmaliers to a famous first-ever Wexford SFC crown at the expense of seven-time champions Kilanerin in Saturday's replay at sunny Innovate Wexford Park.
Four years after annexing their maiden county senior hurling crown, the black-and-amber dominated this rematch, with goals from Simon Donohoe, AJ Lehane, Ross Banville and Eoghan Nolan decorating their glorious breakthrough eleven years after Shelmaliers' emergence from intermediate ranks.
Shels monopolised the first-half, but kicked nine frustrating wides as they failed to put Kilanerin to bed.
Regardless, after a dream start when Simon Donohoe, their saviour from the drawn tie, netted after only 63 seconds, the winners eased ahead by 1-6 to 0-1 at half-time as Eoghan Nolan (2), AJ Lehane (3) and captain Eoin Doyle delivered.
Simon Donohoe went close to netting a second personal goal just before the interval.
But the black-and-amber did raise another green-flag within a minute of the resumption, when AJ Lehane profited after a swift move, and teenager Ross Banville got in on the goal-scoring act on 40 minutes to send Shelmaliers soaring clear by 3-9 to 0-3.
'Man of the match' Eoghan Nolan carved through for their fourth goal in the 45th-minute, and although Matty Forde pegged back a goal from a 55th-minute penalty, the Shels were already well and truly home and hosed and joining the roll-of-honour.
Shelmaliers: James Gordon, André O'Brien, James Cash, Ciarán O'Shaughnessy, Simon Donohoe (1-01), Brian Malone (0-01), Graham Staples, Glen Malone (0-01), Eoghan Nolan (1-02), Aidan Cash, Eoin Doyle (capt., 0-01), Ross Banville (1-01), Conor Hearne, AJ Lehane (1-03, 0-1f), Craig McCabe (0-02, 1f, 1pen.).
Subs: Jody Donohoe (0-01) for Banville (51); Páraic O'Leary for Hearne (55); Seán Keane-Carroll for Lehane (55); Tommy Barron (0-01) for Staples (57); Brian Murphy for Doyle (58); Cian Manley for O'Brien (60).
Kilanerin: Tom Hughes, Rhys Owley, Colm Kavanagh, Aidan Jones (capt.), Mark Boland, Gavin O'Toole, Denis Jones, Niall Hughes (0-01), Niall Breen, Peter Hughes (0-01), Dean O'Toole, Páraic Hughes, Conor Devitt, Matty Forde (1-3, 1-00 pen., 0-03fs), Seán Forde (0-01f)
Subs: Mark Gethings for S Forde (18); S Forde for M Gethings (31); Bobby Hughes (0-01) for D Jones (34); Emmett O'Toole for Peter Hughes (43); Ben O'Connor for Boland (43); Edward Hughes for Kavanagh (47);
Referee: Seán Whelan (St. Martin's).