Chelsea chairman laments FFP helping 'great unwashed'
Financial fair play rules should not be allowed to lump big clubs like Chelsea and Manchester City with the ranks of the "great unwashed", Chelsea chairman Bruce Buck said.
Buck suggested inequality in soccer was not necessarily a bad thing and said the rules now denied other clubs the chance of one day rising like Chelsea to the top of the Premier League with the help of a billionaire investor.
"I personally believe that for the development of football, marquee clubs and marquee players are important," Buck told the Leaders Sport Business summit at Chelsea's Stamford Bridge ground.
"I am not, as a general proposition, in favour of dumbing down the large clubs in order to make all clubs the great unwashed. They've done that in the US over the last 20 years and I think its been to the detriment, particularly of baseball.
"MLS (Major League Soccer) started with that model of competitive balance…and I just don't think it works for the long term."
Buck said there were 10 or 12 big clubs in Europe at present and he expected those same ones to be at the top in five or 10 years time.
"The dream in England is, if you support a Conference team, that some day you'll win the Premier League. Financial Fair Play has pluses and minuses, and one of the minuses is that dream is now over.
"What Chelsea did in 2003, what Man City did five years later, that's virtually impossible to do under financial fair play," he added.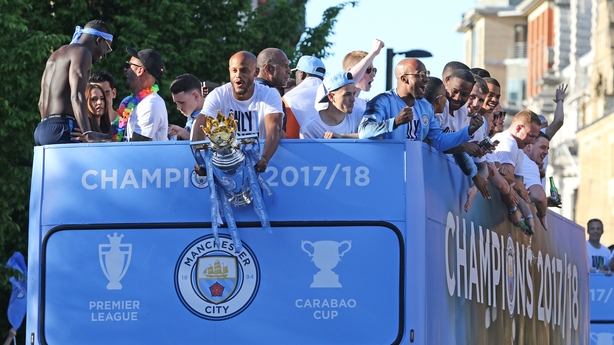 Chelsea had won only one English league top tier title, in 1954-55, until Russian billionaire Roman Abramovich bought the club in 2003. They have since won five Premier League championships.
Champions Manchester City, now level on points with Chelsea and Liverpool at the top, had not won the league title since 1968 when they were taken over in 2008 by Abu Dhabi United Group.
The following year they spent more in the transfer market than any other English club and have since won three Premier League titles.
Buck said clubs had to find their "natural position" in the football hierarchy, while also seeking to improve.
With the exception of Leicester City in 2016 and Blackburn Rovers in 1995, Manchester United, Chelsea, Manchester City and Arsenal have won every Premier League title since the 1992-93 season.
"I dont think we should assume that because every club is not equal, that therefore its bad," Buck said.
European soccer's governing body UEFA introduced a Financial Fair Play break-even rule in 2011 to stop clubs spending beyond their generated revenue.
The policy is designed to prevent rich owners from trying to buy success and distort the transfer market.
Teams can be thrown out of European competition for breaching the rules but UEFA has generally negotiated settlements with offending clubs.
Goal-happy Shelmaliers win first ever Wexford SFC crown
Shelmaliers 4-14 Kilanerin 1-07
Goals at the start of either half powered Shelmaliers to a famous first-ever Wexford SFC crown at the expense of seven-time champions Kilanerin in Saturday's replay at sunny Innovate Wexford Park.
Four years after annexing their maiden county senior hurling crown, the black-and-amber dominated this rematch, with goals from Simon Donohoe, AJ Lehane, Ross Banville and Eoghan Nolan decorating their glorious breakthrough eleven years after Shelmaliers' emergence from intermediate ranks.
Shels monopolised the first-half, but kicked nine frustrating wides as they failed to put Kilanerin to bed.
Regardless, after a dream start when Simon Donohoe, their saviour from the drawn tie, netted after only 63 seconds, the winners eased ahead by 1-6 to 0-1 at half-time as Eoghan Nolan (2), AJ Lehane (3) and captain Eoin Doyle delivered.
Simon Donohoe went close to netting a second personal goal just before the interval.
But the black-and-amber did raise another green-flag within a minute of the resumption, when AJ Lehane profited after a swift move, and teenager Ross Banville got in on the goal-scoring act on 40 minutes to send Shelmaliers soaring clear by 3-9 to 0-3.
'Man of the match' Eoghan Nolan carved through for their fourth goal in the 45th-minute, and although Matty Forde pegged back a goal from a 55th-minute penalty, the Shels were already well and truly home and hosed and joining the roll-of-honour.
Shelmaliers: James Gordon, André O'Brien, James Cash, Ciarán O'Shaughnessy, Simon Donohoe (1-01), Brian Malone (0-01), Graham Staples, Glen Malone (0-01), Eoghan Nolan (1-02), Aidan Cash, Eoin Doyle (capt., 0-01), Ross Banville (1-01), Conor Hearne, AJ Lehane (1-03, 0-1f), Craig McCabe (0-02, 1f, 1pen.).
Subs: Jody Donohoe (0-01) for Banville (51); Páraic O'Leary for Hearne (55); Seán Keane-Carroll for Lehane (55); Tommy Barron (0-01) for Staples (57); Brian Murphy for Doyle (58); Cian Manley for O'Brien (60).
Kilanerin: Tom Hughes, Rhys Owley, Colm Kavanagh, Aidan Jones (capt.), Mark Boland, Gavin O'Toole, Denis Jones, Niall Hughes (0-01), Niall Breen, Peter Hughes (0-01), Dean O'Toole, Páraic Hughes, Conor Devitt, Matty Forde (1-3, 1-00 pen., 0-03fs), Seán Forde (0-01f)
Subs: Mark Gethings for S Forde (18); S Forde for M Gethings (31); Bobby Hughes (0-01) for D Jones (34); Emmett O'Toole for Peter Hughes (43); Ben O'Connor for Boland (43); Edward Hughes for Kavanagh (47);
Referee: Seán Whelan (St. Martin's).