Dubai police training on flying motorbikes
Police in Dubai have begun training on hoverbikes in the hope that they can help first responder units reach areas that would otherwise be difficult to reach.
The futuristic vehicles are intended to be in action by 2020 and are the latest extravagant expense by a force which already boasts a Ferrari and a Lamborghini among its patrol car fleet.
The "electric vertical take-off and landing (EVTOL) bikes" were delivered by a Russian-owned California-based company called Hoversurf, which signed a deal with the force in 2017.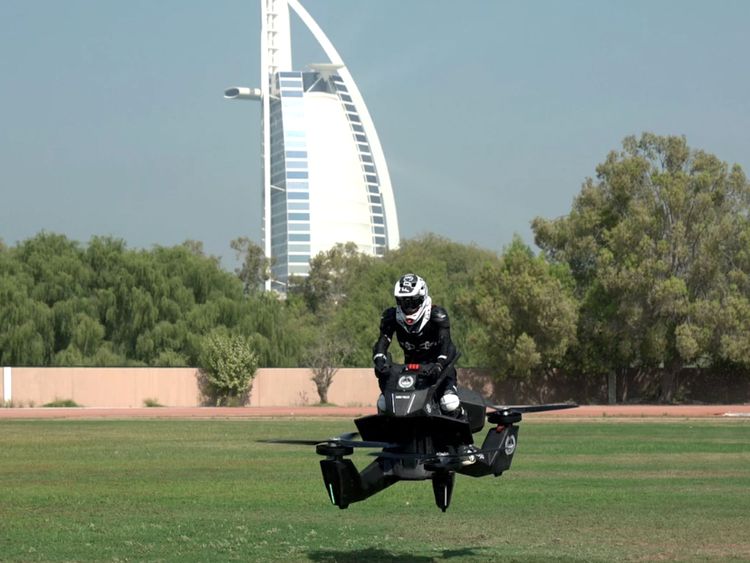 CNN reports that Brigadier Khalid Nasser Alrazooqi, who heads the Dubai police artificial intelligence department, described the EVTOL vehicle as a first responder unit used to access hard to reach areas.
The hoverbike has been designed to meet Federal Aviation Administration guidelines in the US, meaning it does not require a pilot's license to fly, but the $150,000 (£114,000) cost per vehicle is likely to stifle widespread adoption.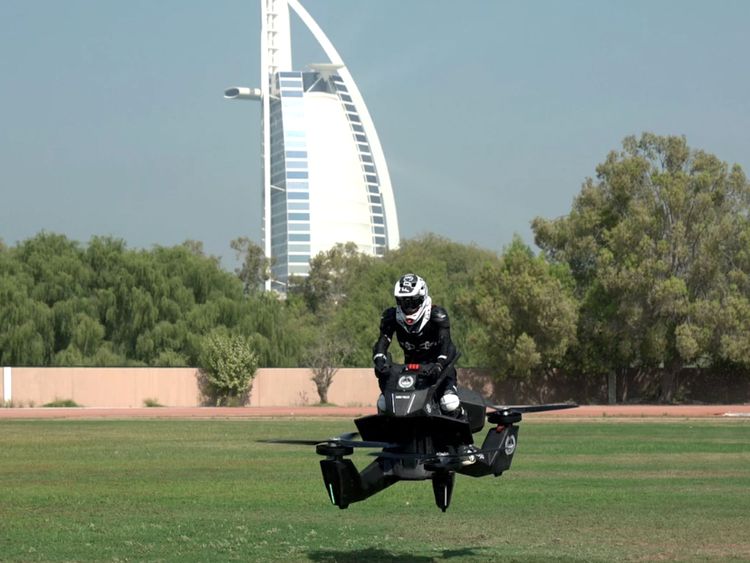 In addition to meeting the cost, the company has said it will require purchasers to show that they are capable of driving the bikes.
Hoversurf is also developing a number of other EVTOL vehicles, including a "drone taxi", which it claims can fly a maximum distance of 300km (186 miles) at 250kmph (155mph) for just over an hour.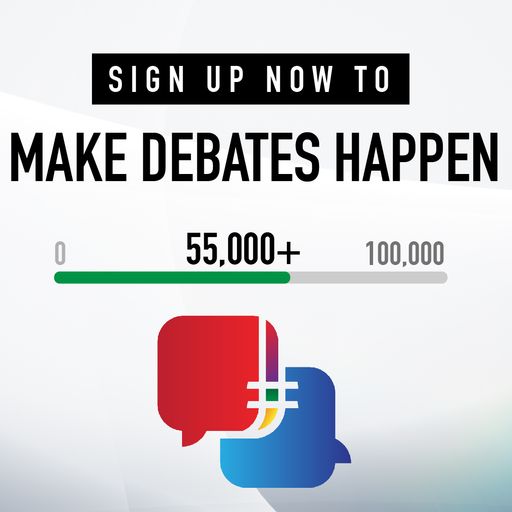 #MakeDebatesHappen
More than 50,000 people have signed our petition calling for televised leaders' debates before elections – have you?
Earlier this year, Rolls Royce presented its own EVTOL system at the Farnborough International Airshow and said it was searching for partners who could help make the idea a reality.
The British car firm uses gas turbine technology to propel the vehicle with minimal noise and without the need for recharging – a crucially limiting feature for most electric vehicles.
Speaking to CNN, the editor-in-chief of Aerospace magazine, Tim Robinson, described the hoverbike as "pretty limited" in terms of what it could offer police work, but added it "looks bags of fun".
More from United Arab Emirates
Rio Ferdinand and Kate Wright engaged after Abu Dhabi rooftop proposal

Matthew Hedges: 'Innocent' UK student accused of spying in UAE being 'unjustly held', wife says

Matthew Hedges: PhD student held in Dubai on spying charge 'suffering significant health issues'

British student Matthew Hedges charged with spying in United Arab Emirates

UAE has 'embarrassing revelations' on detained Brit, minister claims

Wife of detained Briton Matthew Hedges: 'He'd be a terrible spy'
Away from its lavish procurement processes, police in Dubai have previously sparked outrage with several controversial arrests – including of an alleged rape victim for having extramarital sex after she reported the crime.
The woman was released after her family launched an online appeal.
The curious case of the electric carving knife
The Black + Decker ComfortGrip 9-inch electric knife.
Black + Decker
Electric knives are cheesy antiques, right? You have to plug them in, they're noisy, and seem ridiculous when compared to a traditional knife, especially if you own a quality tool that you keep sharp. They have an old-school vibe, but not good old-school. More like: an unnecessary gadget that Mad Men-type ad execs would hawk.
But a good electric knife can do one thing really well: it will cut roast meat cleanly, leaving a tidy little strip of skin on top of each slice. In other words—they are silly, but if you're ever going to use one, it's Thanksgiving and other occasions like it. The moments when you want things to be pretty.
Last year, staffers at Cook's Illustrated magazine—the magazine of the well-respected America's Test Kitchen—tried out four electric knives. The results surprised the publication's editor-in-chief.
"I was super skeptical when they started that testing," says Dan Souza, editor of Cook's Illustrated. "It's just kind of this relic from the 50s and 60s." One problem is the noise; they can be "as loud as a lawnmower."
"I would say that they're not taken especially seriously," he adds.
But one model stood out for them: the Black + Decker ComfortGrip 9-inch electric knife, which is $20. An electric knife has two side-by-side blades that move back and forth quickly, meaning that you don't need to saw manually—you just push down. It looks like a power tool you'd find in a wood shop, not a kitchen cabinet.
"You can get a very clean cut that way," he says. "That winning one did do a really nice job of keeping a perfect little strip of crispy skin on every single slice."
To get the most out of an electric knife, first separate the chunks of breast meat from the cooked bird—a task for which Souza recommends just using a regular chef's knife. Then, place meat on a cutting board, skin up, and use the electric knife to cut it across the grain.
The knife breaks down into multiple pieces.
Black + Decker
"And that's really where I think the electric knife excels, with no tearing of the skin, and really, really clean slices," Souza says. The tool would also come in handy with a cooked piece of roast beef, or pork roast.
A good one can help people out who don't frequently cook, or carve, a turkey. "It does solve a potentially pretty big problem for home cooks," Souza says. "And there's the added pressure of you're wanting it to be this gorgeous thing on Thanksgiving."
David Bruno, a chef and associate professor at the Culinary Institute of America, agrees that an electric knife can come in handy when slicing a bird. "For someone who may have a drawer full of knives, what I generally find—unless they're really a knife aficionado—most of those knives are really dull," he says. A dull knife will rip the skin, but in this context, the electric knife could produce nice, tidy slices.
"In general, we don't use a lot of them," he adds. But they do have a niche. "People that are making food to display for competing, that really need an accurate slice, have been known to use these knives before." Some competitive barbecue cookers use them to cut their meats—but it's a controversial topic that has spawned countless arguments.
Of course, you don't need one. "I still really believe that if you have a super sharp knife, and you take really great care of it, you can absolutely carve a turkey with great success," Souza says.
Not sold on the idea of an electric knife? That's fine. The test kitchen at Saveur—one of Popular Science's sister publications—rounded up some blades to consider for your kitchen. You don't even need to plug them in. One of the knives on their list is a carver that's only $7. Want more choices? At the higher end is this $340 tool from Town Cutler, and in the middle is a $140 option. Bon appetit.