Esther McVey: Some to be poorer under universal credit
Some people will be worse off under universal credit – but they can take on more work to increase their income, the minster in charge says.
Work and Pensions Secretary Esther McVey defended the new benefit system amid reports 3.2 million households will lose more than £2,000 year.
She told the BBC some people would lose out because the government had made "tough" spending decisions in 2015.
But she insisted the most vulnerable would be protected.
Speaking at Prime Minister's Questions on Wednesday, Theresa May said "people who are moved on to universal credit… will not see any reduction" in their benefits.
Labour's shadow work and pensions secretary Margaret Greenwood said: "Now that Esther McVey has admitted that people will be worse off under universal credit, this Conservative government has no excuse for pushing ahead with their shameful programme.
"This exposes Number 10's claim this week that no family will receive less money under universal credit as fiction."
Ms McVey is reported to have privately told cabinet colleagues that many claimants could lose as much as £200 a month as a result of the switch to universal credit, which replaces a range of existing benefits.
Major: Universal credit like 80s poll tax
McDonnell: Universal credit has to go
Benefit plan 'risks social unrest' – Brown
Asked about those reports, she told BBC News: "Some people could be worse off on this benefit. But a thousand people every day since 2010 have gone in to work."
Asked about those who would lose out, she said: "If those people can work, what they will be losing is benefits, but what they have got now is work. Work will be paying. Their wage will be increasing."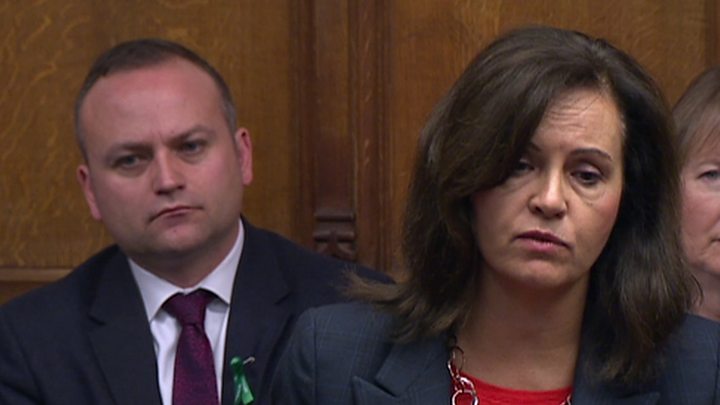 Ms McVey also hit back at criticism from Sir John Major who has warned that universal credit could hurt current prime minister Theresa May in the same way poll tax hurt the then prime minister Margaret Thatcher in 1989 and 1990.
She said she "knows more about universal credit" than the former Conservative prime minister.
But the government is facing growing calls from Conservative MPs – including the architect of the system Iain Duncan Smith and other backbenchers facing complaints from constituents – to scrap a promised income tax cut and instead pump more more money into universal credit.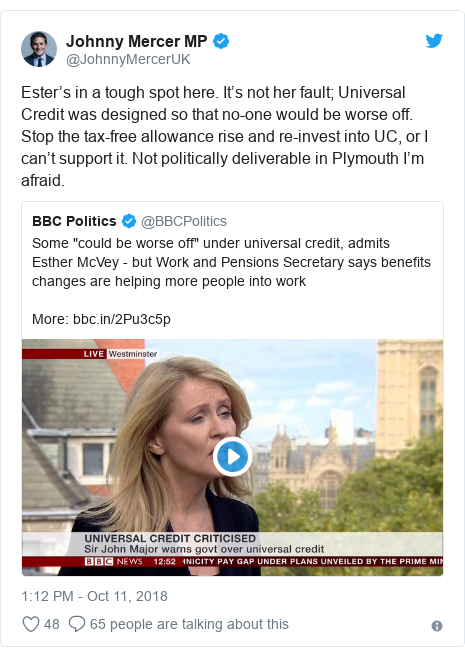 Universal credit is a new benefit for working-age people that consolidates into one monthly payment six separate benefits:
income support
income-based jobseeker's allowance
income-related employment and support allowance
housing benefit
child tax credit
working tax credit
Read more: What is universal credit?
Currently being phased in for different types of claimant across the UK, universal credit is aimed at making the benefits system simpler and more flexible so people who are able to work are rewarded for doing so.
Universal credit has been criticised for running over budget and causing delays to people's payments, but the plan is to move all existing benefit claimants on to it next year.
Ms McVey claimed it was working "much better than the old system" which "kept people out of work" and she said the government was putting £3.1bn into helping people affected by the transition to the new system.
But the Resolution Foundation think tank said less than 20% of affected families are expected to receive support from the government to change to the new system.
People whose circumstances change, who make a brand new claim, or who come off benefits and then go back on them, will not be protected.
Labour leader Jeremy Corbyn said the universal credit system "has to change very very rapidly" and that Labour will be proposing "a more comprehensive system" in which nobody would be "worse off".
Speaking in Bristol, Mr Corbyn said that Labour would "immediately stop the process" of the nationwide rollout and would maintain "existing levels of benefit immediately".
"We will be proposing a more comprehensive system but essentially our benchmarks have been nobody should be worse off and nobody should have their homes put at risk because of universal credit."
The switch to universal credit will create some winners, the Resolution Foundation says, with 1.1 million households an average of £53 a week better off.
But, overall, working families will be worse off than under the current benefit system, with the biggest losers likely to be people with children who are currently in receipt of tax credits, analysts say.
Jamal Khashoggi's death exposes Saudi regime
Jamal Khashoggi was a gracious, polite and gentle man to meet.
Not the type to risk a fight with a bunch of goons behind closed doors in a consulate, or anywhere else for that matter.
For those who met and knew him, the latest storyline out of Riyadh is preposterous.
It also contradicts the shrill Saudi denials of the past two weeks that anything untoward happened in the consulate, leaving the credibility of the Saudi government in shreds.
The most likely explanation must remain Mr Khashoggi's killing was ordered by Crown Prince Mohammed Bin Salman.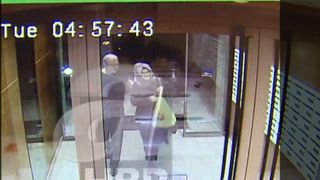 Second most likely is an interrogation, intimidation or rendition operation, authorised or not by the prince, that went badly wrong.
If that was the case it is unthinkable the Crown Prince did not know what happened. He is after all Crown Prince and defence minister: intelligence agencies answer to him. He would have been told.
So he was either complicit in the killing and ordered it.
Or it was a botched operation which he soon learned about.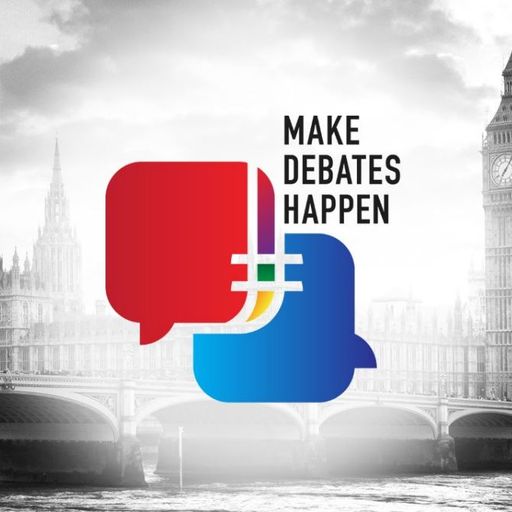 Sign here to force leaders to debate on TV
Thousands have signed our petition for an Independent Leaders' Commission to organise election debates – have you?
If that was the case, inexplicably he waited two and a half weeks before letting the world know.
Two and a half weeks of damaging diplomatic fallout.
In that time his government, and supporters in the media angrily denied claims the writer died in the consulate. Claims they now say are true. The fortnight damaged both Saudi credibility and relations with allies.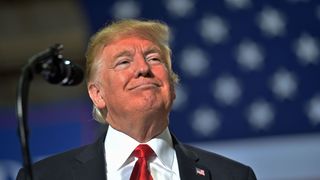 That would make him incompetent.
So either a rash impetuous ruler who dispatches assassins to kill journalists or an inept one. Neither are what America or Britain seek as a partner in this crucial region.
Critics say this is the price America pays for giving the young prince free rein.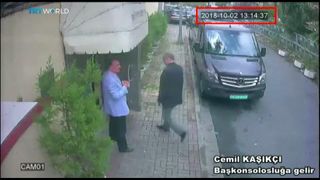 Mr Trump's amoral foreign policy has led to an immoral one as the administration scrambles to give cover to its ally. A rogue ally that has caused considerable damage but is now too important to lose.
In his short time in office, MBS has presented himself as a twenty first century form of enlightened despot.
More from World
Jamal Khashoggi: Turkey 'won't allow cover-up' of journalist's death

Suicide bomber kills 15 at Afghanistan election polling station

More than 60 foetuses in cardboard boxes and freezers found in US funeral home

Police struggle to identify badly dismembered victims of India train crash

Riot police clash with migrants desperate to reach US

Mega Millions jackpot hits record-breaking $1.6bn after no one wins $1bn
An absolute ruler but one who wants to use his authoritarian power to reform and modernise his country.
That image may well have died with Jamal Khashoggi at considerable cost to his country and support from the west.