Facebook admits Zuckerberg uses secret tool to unsend messages
Facebook users who change their mind and do not want their messages to appear in a recipients' inbox will be able to delete them in future.
The US tech giant has admitted its boss Mark Zuckerberg has been secretly using a tool to delete his messages in other users' inboxes for several years without telling recipients.
Until now, the option has not been available to most users – something which Facebook has apologised for.
The social network admitted it began erasing the messages of Mr Zuckerberg and other top executives in 2014 after hackers got hold of and released emails from Sony Pictures executives.
The Sony messages included critical remarks about movie stars and others in the entertainment industry.
On Friday, Facebook announced it will also require advertisers who want to run "issue ads" – not endorsing particular candidates or parties but discussing political topics – to verify who pays for them and where the advertiser is based.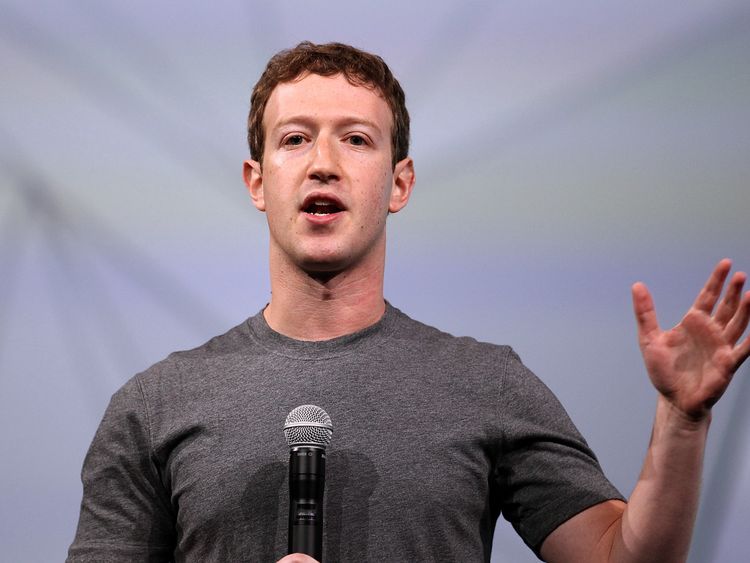 :: Almost 3 million EU citizens hit by Facebook data breach
The measure is already in place for political ads, and comes as Facebook tries to clamp down on outside election interference ahead of this year's US mid-terms and upcoming political contests around the world.
Facebook will also require those who look after pages with a "large number" of followers to also be verified, but it has not stated what this number would be.
The company is trying to clamp down on fake pages and accounts used to disrupt the 2016 US presidential election.
Facebook says page administrators and advertisers will be asked to provide a government-issued ID for verification.
More from Facebook
Almost 3 million EU citizens hit by Facebook data breach

Zuckerberg to testify before US Congress over privacy row

Facebook and Instagram ban 135 Russian troll accounts over meddling

Facebook ends partnerships with data brokers following Cambridge Analytica scandal

Facebook unveils new privacy tools that let you delete data for good

Apple unveils new privacy controls in iOS 11.3 update amid Facebook data scandal
The company is facing a global backlash over the improper sharing of data.
Hearings are planned in the US over the scandal and the EU is considering what actions to take against the company.
The curious case of the electric carving knife
The Black + Decker ComfortGrip 9-inch electric knife.
Black + Decker
Electric knives are cheesy antiques, right? You have to plug them in, they're noisy, and seem ridiculous when compared to a traditional knife, especially if you own a quality tool that you keep sharp. They have an old-school vibe, but not good old-school. More like: an unnecessary gadget that Mad Men-type ad execs would hawk.
But a good electric knife can do one thing really well: it will cut roast meat cleanly, leaving a tidy little strip of skin on top of each slice. In other words—they are silly, but if you're ever going to use one, it's Thanksgiving and other occasions like it. The moments when you want things to be pretty.
Last year, staffers at Cook's Illustrated magazine—the magazine of the well-respected America's Test Kitchen—tried out four electric knives. The results surprised the publication's editor-in-chief.
"I was super skeptical when they started that testing," says Dan Souza, editor of Cook's Illustrated. "It's just kind of this relic from the 50s and 60s." One problem is the noise; they can be "as loud as a lawnmower."
"I would say that they're not taken especially seriously," he adds.
But one model stood out for them: the Black + Decker ComfortGrip 9-inch electric knife, which is $20. An electric knife has two side-by-side blades that move back and forth quickly, meaning that you don't need to saw manually—you just push down. It looks like a power tool you'd find in a wood shop, not a kitchen cabinet.
"You can get a very clean cut that way," he says. "That winning one did do a really nice job of keeping a perfect little strip of crispy skin on every single slice."
To get the most out of an electric knife, first separate the chunks of breast meat from the cooked bird—a task for which Souza recommends just using a regular chef's knife. Then, place meat on a cutting board, skin up, and use the electric knife to cut it across the grain.
The knife breaks down into multiple pieces.
Black + Decker
"And that's really where I think the electric knife excels, with no tearing of the skin, and really, really clean slices," Souza says. The tool would also come in handy with a cooked piece of roast beef, or pork roast.
A good one can help people out who don't frequently cook, or carve, a turkey. "It does solve a potentially pretty big problem for home cooks," Souza says. "And there's the added pressure of you're wanting it to be this gorgeous thing on Thanksgiving."
David Bruno, a chef and associate professor at the Culinary Institute of America, agrees that an electric knife can come in handy when slicing a bird. "For someone who may have a drawer full of knives, what I generally find—unless they're really a knife aficionado—most of those knives are really dull," he says. A dull knife will rip the skin, but in this context, the electric knife could produce nice, tidy slices.
"In general, we don't use a lot of them," he adds. But they do have a niche. "People that are making food to display for competing, that really need an accurate slice, have been known to use these knives before." Some competitive barbecue cookers use them to cut their meats—but it's a controversial topic that has spawned countless arguments.
Of course, you don't need one. "I still really believe that if you have a super sharp knife, and you take really great care of it, you can absolutely carve a turkey with great success," Souza says.
Not sold on the idea of an electric knife? That's fine. The test kitchen at Saveur—one of Popular Science's sister publications—rounded up some blades to consider for your kitchen. You don't even need to plug them in. One of the knives on their list is a carver that's only $7. Want more choices? At the higher end is this $340 tool from Town Cutler, and in the middle is a $140 option. Bon appetit.