Facebook admits Zuckerberg uses secret tool to unsend messages
Facebook users who change their mind and do not want their messages to appear in a recipients' inbox will be able to delete them in future.
The US tech giant has admitted its boss Mark Zuckerberg has been secretly using a tool to delete his messages in other users' inboxes for several years without telling recipients.
Until now, the option has not been available to most users – something which Facebook has apologised for.
The social network admitted it began erasing the messages of Mr Zuckerberg and other top executives in 2014 after hackers got hold of and released emails from Sony Pictures executives.
The Sony messages included critical remarks about movie stars and others in the entertainment industry.
On Friday, Facebook announced it will also require advertisers who want to run "issue ads" – not endorsing particular candidates or parties but discussing political topics – to verify who pays for them and where the advertiser is based.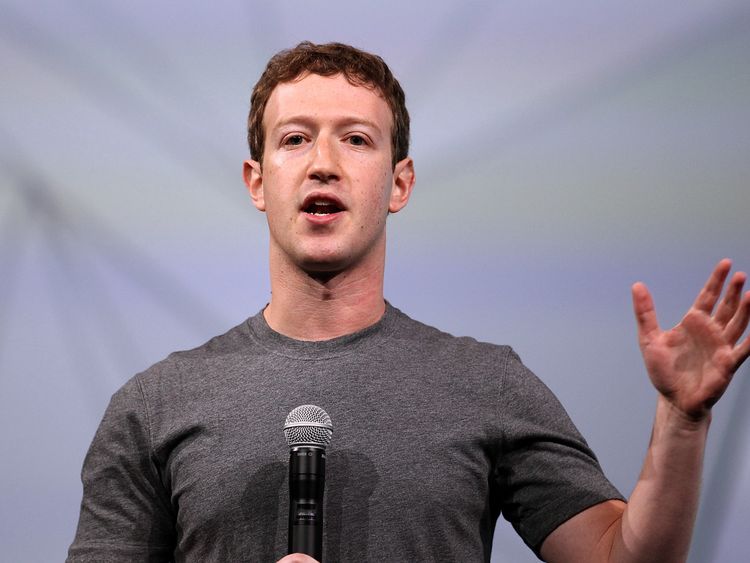 :: Almost 3 million EU citizens hit by Facebook data breach
The measure is already in place for political ads, and comes as Facebook tries to clamp down on outside election interference ahead of this year's US mid-terms and upcoming political contests around the world.
Facebook will also require those who look after pages with a "large number" of followers to also be verified, but it has not stated what this number would be.
The company is trying to clamp down on fake pages and accounts used to disrupt the 2016 US presidential election.
Facebook says page administrators and advertisers will be asked to provide a government-issued ID for verification.
More from Facebook
Almost 3 million EU citizens hit by Facebook data breach

Zuckerberg to testify before US Congress over privacy row

Facebook and Instagram ban 135 Russian troll accounts over meddling

Facebook ends partnerships with data brokers following Cambridge Analytica scandal

Facebook unveils new privacy tools that let you delete data for good

Apple unveils new privacy controls in iOS 11.3 update amid Facebook data scandal
The company is facing a global backlash over the improper sharing of data.
Hearings are planned in the US over the scandal and the EU is considering what actions to take against the company.
Obesity 'to kill more women than smoking in 25 years'
Obesity is to overtake smoking as the leading cause of preventable cancer in British women, according to a new paper.
If trends continue, obesity-related cancers could account for 23,000 cases by 2035, compared to 25,000 caused by smoking in the same year, said the report by Cancer Research UK.
By 2043 obesity is likely to cause more cancer cases than smoking.
The conclusions were based on projections, and researchers stressed that there remain many uncertainties in predicting what will cause cancers in the future.
As fewer people smoke and obesity rates increase, however, the gap will continue to close.
With higher rates of obesity and fewer smokers among women than men, the narrowing is happening faster among women.
Blog post: How we estimated when obesity might catch smoking as the top cause of cancer: https://t.co/UmTgnmth6A pic.twitter.com/7EyEF7dnMU

— Cancer Research UK (@CR_UK) 24 September 2018
The charity is now launching a campaign to raise awareness of the link between cancer and obesity, and to encourage a healthier lifestyle.
It said only around one in seven people in the UK are aware of the link between obesity and cancer.
"The decline in smoking is a cause for celebration. It shows how decades of effort to raise awareness about the health risks plus strong political action including taxation, removing tobacco marketing and a ban on smoking in indoor public places, have paid off," said professor Linda Bauld, a prevention expert at the charity.
"But, just as there is still more to do to support people to quit smoking, we also need to act now to halt the tide of weight-related cancers and ensure this projection never becomes a reality."
Measures suggested following the research including a ban on junk food adverts before 9pm and restrictions on promotions of unhealthy food and drink.
"Obesity is the new smoking, one of the greatest public health challenges of our generation," a spokesperson for NHS England said.
"Expanding waistlines also mean a heavier burden for taxpayers which is why, as we draw up a long term plan for the NHS, we are exploring all options to help patients to help themselves and help the NHS."
More from UK
Infected Blood Inquiry opens: Contaminated blood victims seek answers

Petition launched for permanent leaders' TV debates

Police officers help deliver baby girl in five minutes

LIVE: Brexiteers unveil alternative EU divorce plan

Thomas Cook shares dive after 'hot weather' profit warning

AI soldiers: Army trials battlefield scanning technology
In releasing the report, Cancer Research says it hopes to prevent the projected rise in obesity-related cancers becoming a reality – by taking cues from success in stopping smoking.
In the first half of the 20th century it is believed that up to 80% of men smoked, but today around 17% of men are smokers.