Giroud ends goal-scoring drought as Chelsea progress
Olivier Giroud scored his first Chelsea goal in 794 minutes as the Blues progressed to the Europa League knockout stages with a 1-0 win at BATE Borisov.
Chelsea's fourth win from as many Group L games – three of them now 1-0 – was played out in freezing fog and memorable only for France World Cup winner Giroud's first Blues goal since May's win over Liverpool.
BATE, comfortably beaten last month in London, struck the woodwork three times and Eden Hazard's services were required for longer than anticipated in Belarus.
Seven changes were made to the side which last Sunday beat Crystal Palace 3-1, with Hazard starting for the first time since the draw with Manchester United on October 20.
FULL MATCH DETAILS HERE
Blues head coach Maurizio Sarri left David Luiz, Antonio Rudiger, Marcos Alonso and in-form striker Alvaro Morata at home, with one eye on Everton this Sunday, saying Hazard would feature for 45 or 50 minutes.
Chelsea were 2-0 up after eight minutes two weeks ago, but BATE were a different proposition here, just a few days after wrapping up a 13th successive Belarusian league title.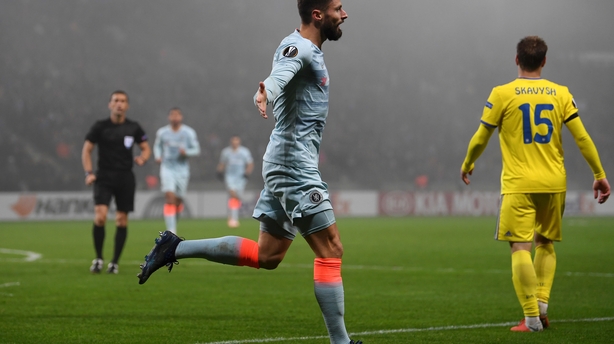 The hosts came close to taking a 12th-minute lead. Dmitri Baga beat Kepa Arrizabalaga with a fine drive from 30 yards, which shook the goalkeeper's left-hand post.
A corner soon afterwards was headed on by Stanislav Dragun, with Kepa scrambling clear. Hazard, unsurprisingly, was involved in Chelsea's best moves early on, but there were few chances of note.
Giroud had an effort deflected wide after a neat turn from Ross Barkley's pass and the France striker later headed wide with a difficult chance from a Hazard cross.
Chelsea had plenty of possession, but too often poor crosses from Davide Zappacosta or one touch too many from Ruben Loftus-Cheek saw attacks end.
As the game clicked into the 51st minute, Hazard was fouled and sent the resulting free-kick soaring out of play beyond the far post.
It was indicative of a frustrating night for Chelsea; their playmaker had been due to be off by then, the result decided.
Sarri was gesticulating wildly in his technical area, his sense of urgency building, and within moments Chelsea were in front.
Jorginho fed left-back Emerson Palmieri who, unlike Zappacosta, found his man with the cross. Giroud's downward header at the near post had enough power to beat Denis Scherbitski, but the goalkeeper should have done better.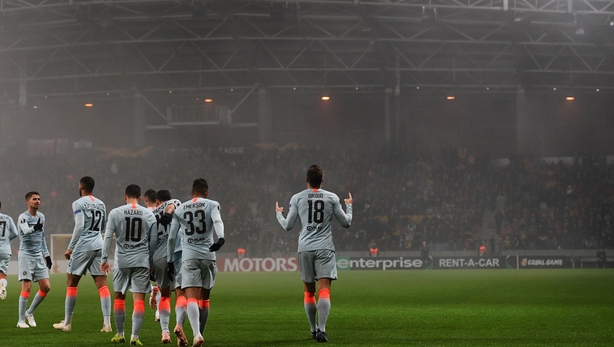 If Chelsea thought their night would become more straightforward from that moment, it did not. A hefty touchline challenge by Maksim Skavysh sent Hazard into his own dugout, the Belgian rising gingerly.
And then BATE struck the woodwork for a second time when Dragun's shot was diverted on to the crossbar by Nikolai Signevich.
Aleksei Rios blasted over soon afterwards, when more composure would have led to an equaliser. Hazard shot straight at Scherbitski, who next saved a Giroud header.
Hazard had been withdrawn by then, seven minutes later than promised by Sarri. Barkley shot over and Jorginho off target and Evgeni Berezkin fired wide for the hosts, who strove for an equaliser until the end.
Even Scherbitski came up for a stoppage time corner and in the ensuing scramble Baga hit the post. Chelsea were relieved to see the ball rebound clear as they held on to qualify with two matches to spare and extend their unbeaten run to 17 games, since August's Community Shield loss to Manchester City.
CPA call on fixture motion to be backed
CPA chairman Micheál Briody has called on all Central Council delegates to support a motion for an immediate review to be conducted on the GAA annual fixture list.
The motion, put forward by Roscommon GAA, is on the agenda for the meeting of the GAA's main decision-making group, and the club player representative body want to see it passed.
CPA chairman Micheál Briody said: "It is no surprise that Roscommon GAA have stepped forward to say enough is enough, someone had to say stop sooner or later. It is a fairly serious matter when a county committee feels they need to step in and plead for common sense to prevail.
"For almost two years now the CPA has called for an immediate 'blank canvas' approach to fixing the fixtures.
"Some progress has been made but the lack of real urgency is not acceptable in our view. Behind the recent ESRI and CPA findings and submissions are the lives of young sports people.
"Years and sports careers pass very quickly as this report actually highlights. This in our view places an enormous requirement and responsibility for leadership and decisive action."
The introduction of Tier 2 football competitions is also on the agenda and Briody feels the structure of fixtures needs to be addressed before introducing new competitions.
He added: "We are witnessing a number of alarming developments in the GAA. We were told that no change to the playing calendar could be considered for three years yet here we are with two proposals on the table for Tier 2 competitions in football.
"There is inherent value in a multi-tiered football structure but it beggars belief that this is being brought to the table as yet another incremental change that could sound the death knell for summer club football which is already practically extinct.
"This comes on the back of the GAA-sanctioned breaches of its own rules by allowing tournament matches involving Tier 1 hurling counties in Australia and the United States.
"In some respects yes, that is a matter for individual counties, but it sends out a message that the hierarchy is able to cherry pick its own rule book. One of the recent findings among players was that they needed a break."