Meet the Brit in charge of fixing NYC's subway
He made a name for himself running transport systems in London, Sydney and Toronto. Now Briton Andy Byford is in charge of turning around New York's aging, failing subway system. What did he get himself into?
About 400,000 people pass through the Bloor-Yonge subway station every day in Toronto, Canada's largest city.
And on a summer's day in 2013, the city's transport chief Andy Byford tried to apologise to every one of them.
Earlier in the day, water damage had caused a signal failure, delaying trains from rush hour that morning until early afternoon.
Walking up and down the platform, Byford tried to apologise in person to harried commuters while a recording of him formally apologising played on a loop on the station's loudspeaker.
"Sorry about this morning," Byford said in his clipped British accent to anyone willing to engage.
"Ultimately, I am responsible and I apologise without reservation."
Five years later, Byford is bringing this penchant for apologies to New York where he has taken on the top job at the New York City Transit Authority.
He issued his first mea culpa after just a month on the job, when signal problems caused a five-hour delay on six lines in Queens.
"Days like this morning drive me crazy," he told reporters.
The next day, when the cameras were off, he made the trek to Queens to meet some of the commuters personally affected by the delays.
"To be honest, I expected to get a lot of flak but people were very appreciative that I was there," he says, from his corner office at NYC Transit headquarters in lower Manhattan.
Around his desk are memorabilia from his previous jobs in Toronto, Sydney and London.
At first glance, Byford may seem like an odd choice for the leader of the largest subway system (by number of stations) in the world.
New Yorkers are not known for their patience or their tact, and his quiet earnestness can come across as naiveté.
But within five minutes of talking to him about his favourite subject, public transport, you soon realise that beneath the buttoned-up exterior is the soul of a zealot.
Perhaps this job was his destiny. His grandfather drove a bus for London Transport for 40 years, and his father also worked there before moving to Plymouth, where Byford was raised.
He studied German and French at the University of Leicester, but made a beeline for the London Underground at a jobs fair.
Starting his career as a uniformed station foreman, he climbed the ranks to become general manager for Kings Cross Tube Station. From there, he worked in transport around the UK before heading to Sydney, Australia in 2009, where he was the chief operating officer for RailCorp, which at the time ran the city's commuter rails.
Inside New York's taxi "crisis"
Escalator etiquette around the world
How your commute could change your life
In 2012, he moved to his wife's home country of Canada (they met, naturally, on the London Tube) where he was appointed the head of the Toronto Transit Commission.
Three months ago, he announced he was leaving Toronto for the Big Apple.
Now on the subway each morning (he has never owned a car), Byford takes in the labyrinthian network of tunnels that connect the subway to Grand Central Station with the wide-eyed wonder of a pilgrim arriving at Mecca.
"Sometimes I could pinch myself because the system is so iconic," he says.
This enthusiasm will be put to the test, however, as Byford is facing one of New York City Transit's darkest hours.
Last June, New York Governor Andrew Cuomo declared a state of emergency after a series of paralysing delays and a train derailment injured dozens. The signalling system – the technology that tells subway cars to move from one station to another – has not been updated since the 1930s.
Overcrowding, aging equipment and signal failures mean the average number of hours lost due to delays increased by 45% in just five years.
Cuomo has pledged $1bn towards improvements but experts say the city needs billions more.
Meanwhile, competitors like Uber and other ride-sharing services have chipped away at average ridership for two years in a row.
Howard Roberts, who held the job of NYC Transit chief from 2007 to 2009, says the system has long been held hostage by the whims of politicians.
"Incompetent politicians are a big problem for anybody that's trying to run the Transit Authority," he says.
Public transport is currently in the crosshairs in the power struggle between NYC Mayor Bill de Blasio and Cuomo.
The two have been butting heads for years and the rapid deterioration of the subway has given them ample opportunities to spar in the press.
The mayor wants to have more input into how state money should be spent in his city and more funding in general. The governor, perhaps not surprisingly, disagrees.
Byford will find himself sitting in many meetings where board members are split by allegiances to the city or state, and one of his greatest challenges as a public servant will be to stay out of it.
Being in the middle of a political dogfight is a situation he is all too familiar with. When he took on the job in Toronto in 2012, his predecessor had just been fired by then-mayor Rob Ford for opposing the mayor's proposal for a subway extension in the neighbourhood of Scarborough, on the outskirts of the city.
When Byford submitted a briefing note in favour of the subway to Ford's successor, it rankled many who instead favoured light rail. Just weeks before his last day in Toronto, he got into a heated showdown with a city councillor who accused him of kowtowing to political pressure.
Byford describes that debacle as a "hard lesson" and vows he will "do the right thing, say the right thing, stand my ground and not allow myself to be politically influenced" in New York.
"I have tried to do that (in Toronto) but you can do something in good faith and it can rebound on you," he says.
Toronto also provided a testing ground for some of the challenges he will face in New York, albeit on a much smaller scale.
Like in New York, a mid-century signalling system also meant frequent delays. Employees were demoralised from frequent leadership changes and bureaucratic red tape. Ridership had grown by about 20% over a decade, yet the operating budget had remained basically the same.
Under Byford's watch delays had been cut by almost 20%, while customer satisfaction increased. More night buses were added, and a long-overdue new signalling system was installed.
Toronto won the American Public Transportation Association award for "most outstanding public transit system of the year" among large metropolitan areas in North America.
The news was not met with universal enthusiasm because there was still plenty travellers complained about – the new automatic fare system, Presto Card, was frequently out of service and less than half of the new streetcars had been delivered.
"I mean, there are awards I could see giving the TTC. As a kid, I won a hockey award for "most improved player" on my team that I (and all my teammates, I think) understood to mean I was not very good at the sport at all, but was obviously putting in a lot of effort and practice to get less bad at it. Something like that," quipped Toronto Star columnist Edward Keenan.
But criticism is just part of the job, says Byford, with a shrug of his shoulders. "We knew there would be some scoffing, which there was."
Although he agrees the system is "far from perfect", Byford believes his time in Toronto will prepare him for the hard job ahead in New York, where he is in charge of about 50,000 workers, many of them unionised, and the daily commute of 5.6 million people.
Some of his first priorities, he says, will be to fix the bus service, which he says is sorely neglected. That's welcome news to Jaqi Cohen, who works for a commuter-advocacy group called the Straphangers Campaign.
"We were very happy to see him call attention not just to subway service, which is in dire need of repair and modernisation, but to these other sometimes lesser-prioritised transit concerns," she says.
Another idea was less well received. Byford has suggested ending 24/7 service on some lines during certain hours to help speed repairs. It has caused quite a stir in the city that never sleeps.
"I think New York is a 24-hour city," Cohen says. "I don't think riders will like that."
Along with the scale and scope of NYC transport, he faces an archaic bureaucratic culture which he intends to reform. One of the organisation's oldest quirks is that everybody – from the janitor to senior management – is expected to clock in.
After coming and going freely for a few weeks, he realised that his secretary was discreetly keeping track of his hours.
"It's ridiculous, I'm the president of the company," he says. "I said, 'Don't bother doing that, I've more than worked my hours'."
His grandest schemes for reorganising the company are hidden away in his "war room" – a spare office turned into a three-dimensional flow chart, with four walls covered in white boards so that Byford can sketch out his ideas.
At its centre is the word "customer" encircled by the directives "plan, focus, do, review".
This mantra, he says, will help reorganise the ranks of the transport authority around customer service, although he is keeping mum for now on his ultimate designs.
It's those customers – the millions of harried New Yorkers who rely on public transit – who will decide if Byford is up to the job.
May heading to Brussels amid scramble to finalise Brexit deal
Theresa May will meet EU officials later as the two sides scramble to finalise a Brexit deal in time for Sunday's summit of European leaders.
The EU missed its deadline on Tuesday to complete the text of its declaration on future relations with the UK, amid concerns from several member states.
Stumbling blocks remain over UK access to the EU single market, access to UK waters for EU boats and Gibraltar.
The PM is under pressure from her own MPs not to give any further ground.
She appears to have faced down the threat of a challenge to her position from Brexiteer critics of the deal, for the time being at least.
Spain threatens to vote against Brexit deal
Kuenssberg: Still time for nips and tucks to EU deal?
The withdrawal agreement – what it all means
However, Tory MPs unhappy with Mrs May's handling of Brexit negotiations want much more clarity on the terms of the UK's future co-operation with the EU if they are to back the final deal – which will be put before European leaders this weekend.
All sides in the Commons have warned of a "blind Brexit" in which the UK signs up to a series of legally-binding commitments in the draft withdrawal agreement, without similar guarantees over future trading arrangements.
Please upgrade your browser
Your guide to Brexit jargon
Enter the word or phrase you are looking for Search
The withdrawal deal was agreed in principal by both Mrs May and the EU last week. It includes a £39bn "divorce bill" and the controversial customs "backstop" which keeps the UK temporarily in the EU customs union as a way of preventing the return of manned customs posts at the Irish border.
However, the joint political declaration on future relations – still being drafted – would only set out the shape of the UK's trading relationship with the remaining 27-nation bloc, without any legal commitments.
What to look for in the Brexit political declaration?
Q&A: The Irish border Brexit backstop
Any binding trade deal would still have to be thrashed out in the 21-month transition period after Britain leaves the EU on 29 March 2019.
The BBC's political editor Laura Kuenssberg said some UK ministers still believed there was time for a few "nips and tucks" to the withdrawal agreement reached in principle last week.
During a flying visit to Brussels designed to prepare the ground for this weekend's summit of EU leaders, Mrs May will hold talks with European Commission president Jean-Claude Juncker.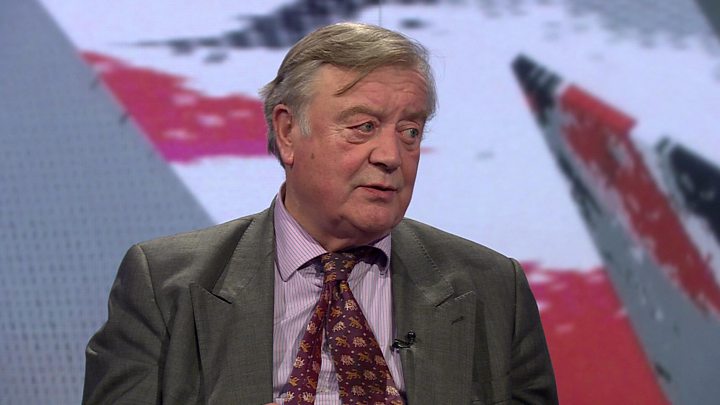 The prime minister departs for Brussels with her position seeming more secure, despite a week of cabinet resignations and political plotting to remove her from post.
On Tuesday one of Mrs May's most ardent critics, Jacob Rees-Mogg, said the time "is now" for fellow backbenchers to either force a confidence vote in Mrs May or have her lead the party into the next election.
But he accepted it could be next month before the required threshold of 48 letters needed to trigger a contest was reached.
The prime minister's allies insist she would win any confidence vote, with party rules meaning she would then be immune from a challenge for 12 months.
And a YouGov poll commissioned by the Times suggests that 46% of voters backed Mrs May staying in post, against just 33% a week ago.
Why is May rushing to Brussels?
By Katya Adler, BBC Europe editor
Could this all be more about optics than nitty-gritty politics?
Grumbling aside, no-one in European circles seriously thinks any EU country will refuse to sign up to the Brexit deal by end of play this weekend.
They're all keen to avoid a no-deal scenario and they want to help Theresa May get the Brexit texts through a vote in the House of Commons.
Engaging in last-minute political fisticuffs with the EU is arguably advantageous for Mrs May.
A high-drama, climactic Brexit summit ending in a (presumably planned) late night/early morning bleary-eyed but triumphant resolution with EU leaders would allow the prime minister to claim that the final text of the deal was hard fought and hard won… in the fervent hope that will soften the stance of some of her many critics at home.
Read Katya's blog in full
Outstanding issues
Discussions in Brussels focus on the political declaration outlining relations from the scheduled end of the transition period in 2021. Currently running to 20 pages, it will sit alongside the withdrawal agreement.
The BBC understands the intention is still to present a completed text to leaders at Sunday's summit but opinions differ over how easy it would be to solve the outstanding issues.
Spain has warned it will reject the draft Brexit withdrawal deal without a clarification of the text on future talks on the status of Gibraltar.
Spain maintains a claim to the peninsula, ceded to the British crown under the 1713 Treaty of Utrecht and it wants to ensure that future EU talks with the UK do not cover Gibraltar.
Ambassadors from the EU's 27 remaining countries had been due to be briefed on the final text on Tuesday but the meeting has been re-scheduled for later this week.