N Korea-US talks: Pyongyang 'ready to discuss denuclearisation'
North Korea has promised the US it is ready to discuss the future of its nuclear arsenal when the two nations' leaders meet, US officials say.
Preparations for the summit have included secret, direct talks with North Korea, Trump administration sources told CNN.
US and North Korean intelligence officials are said to have spoken many times, and met in a third country.
The unprecedented summit is slated to happen in May.
It will be the first time a sitting US president has met the leader of North Korea.
North Korea has already told South Korea it was prepared to address denuclearisation, but this is the first time assurances have been given to Washington directly.
Details of the leaders' summit, including the location, remain unclear. CNN's sources said that the North Koreans are pushing to have the meeting in their capital, Pyongyang, with Mongolian capital Ulaanbaatar another option.
Promises, but no guarantees
News of the talks between the US and North Korea surprised many when it broke in March
It followed a year of threats, personal insults and nuclear brinkmanship between their respective leaders.
It is not clear if Pyongyang accepts Washington's definition of denuclearisation, which for the White House means the end of its nuclear weapons programme.
The North has previously halted missile and nuclear tests during past talks, only to resume them when it lost patience or felt its demands were not being met.
As yet, North Korea has not broken its public silence to confirm the US summit is happening.
However, a series of meetings with overseas leaders suggest that preparations are indeed under way.
In late March, Mr Kim made his first known foreign trip since taking office in 2011 – to Beijing.
The visit, confirmed by China and North Korea, involved "successful talks" with President Xi Jinping, China's Xinhua news agency reported.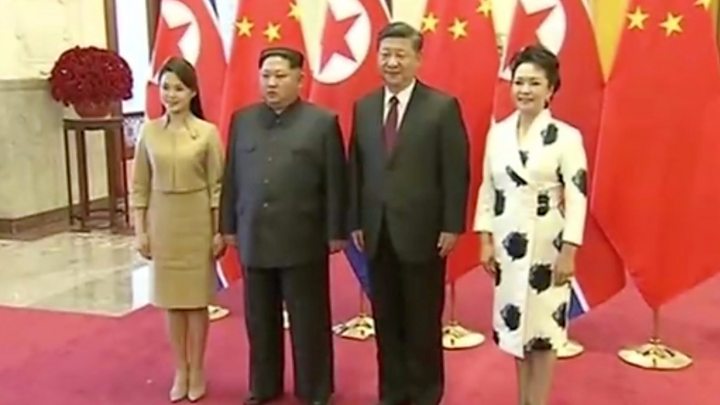 China is North Korea's main economic ally, and it was thought highly likely that Pyongyang would consult Beijing before holding summits with South Korea and the US.
Trump keen to meet Kim after China talks
Kim's concern for South Korean leader's welfare
The political gamble of the 21st Century
Mr Kim is now expected to meet South Korea's President Moon Jae-in late April, on the heavily fortified Korean border.
South Korea has played a key role in brokering the proposed talks between the US and its northern neighbour.
Oil prices surge to near four-year high
Oil prices have jumped to the highest level for nearly four years after Saudi Arabia and Russia ruled out any immediate increase in production.
The decision on Sunday was effectively a rebuff to US President Donald Trump, who has called for immediate action to raise global supply.
Brent crude rose more than 3% to more than $81 a barrel on Monday, its highest level since November 2014.
Saudi Arabia dominates the OPEC group of oil-producing nations and Russia is its biggest oil-producer ally outside the group.
They have reportedly been discussing raising output by half a million barrels a day to counter falling supply from Iran.
But a meeting of OPEC and non-OPEC energy ministers in Algiers ended without any formal recommendation for a supply boost.
Mr Trump said last week that OPEC "must get prices down".
Experts estimate that once US sanctions on Iran are fully implemented from November it could result in the loss of as many as two million barrels a day from global supply.
Commodity traders Trafigura and Mercuria said they expected Brent crude to climb above $90 by Christmas and to pass $100 early in 2019.
BNP Paribas oil strategist Harry Tchilinguirian told Reuters Global Oil Forum: "It is now increasingly evident, that in the face of producers reluctant to raise output, the market will be confronted with supply gaps in the next three to six months that it will need to resolve through higher oil prices."
Higher prices tend to mean higher petrol costs.
More from Business
LIVE: UK coach operators could be barred from EU

McDonnell says Labour's renationalisation plans not 'a return to past'

Labour's IOF share plan will be seen as theft by companies

Thomas Cook shares dive after 'hot weather' profit warning

Carrefour denies mysterious bid for French rival Casino

Barrick and Randgold merger creates £14bn gold mine giant
However the AA has said other factors, including the strengthening pound over recent weeks, means that wholesale prices have fallen, and that this should help keep the lid on costs.
Meanwhile, higher oil prices tend to benefit UK-listed companies such as BP and Royal Dutch Shell, which employ thousands of people in the North Sea and whose shares are staples in many UK pension funds.