New Saint Shaw is manager Kenny's first signing
Former Shamrock Rovers striker Gary Shaw has signed for St Patrick's Athletic ahead of the 2019 SSE Airtricity League season.
The centre-forward left the Hoops at the end of the 2018 campaign and has become Harry Kenny's first signing, since taking over the manager's role at the Inchicore club.
Shaw will lead the line for the Saints next season, and believes that his playing style should prove the perfect fit under the guidance of the new manager
"It's great to get the deal done," said Shaw. "When Harry contacted me, I was more than happy to speak to him. It was a fairly easy decision for me and I'm glad to be here.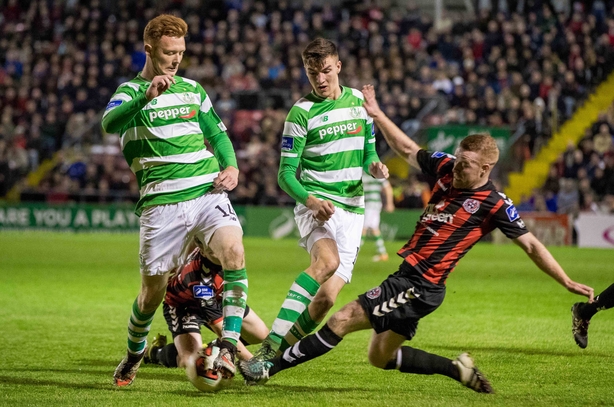 "Harry has new ideas and will bring in new faces, and I think he will be a great manager at this club.
"The style of play that Pat's have will really suit me. They get a lot of crosses into the box, get ball into the striker and I think it's the ideal team for me to play for in the league.
"I think I can really kick on and score a lot of goals."
The 2018 campaign proved disappointing for the Richmond Park club, who finished fifth in the ten-team league and missed out on qualification for Europe next season.
However, Shaw believes that the 2013 league champions will be back competing for those top spots in the coming campaign.
"Pat's have a great history and they need to bring silverware back to the club. I think this year is a big year to do that.
"We'll be focusing on what is ahead of us and not behind us this year."
Manager Kenny believes that Shaw will become a regular for the Saints in 2019 and will prove a crucial part of his jigsaw and plan to get Pat's back into the European places.
He has great attributes," said manager Kenny. "Deceptively, he is very quick and as long as we create chances, he will score goals.
"But he is a confidence player and he needs to be on the pitch. He hasn't had a whole lot of game time up at Rovers, so I spoke to him about getting him game time and getting his confidence up.
"He was a key player for them, at times, and I'd like to think that he will be a key player for us.
"We need a goalscorer to achieve out targets, which is Europe. You certainly need to be in double figures as a striker and hopefully Gary can do that for us.
"I have one or two others in the pipeline so I am looking forward to getting some new faces in and looking forward to the start of the season."
Elsewhere, Trevor Croly has agreed a three-year deal to stay on at Bohemians as Keith Long's assistant manager.
CPA call on fixture motion to be backed
CPA chairman Micheál Briody has called on all Central Council delegates to support a motion for an immediate review to be conducted on the GAA annual fixture list.
The motion, put forward by Roscommon GAA, is on the agenda for the meeting of the GAA's main decision-making group, and the club player representative body want to see it passed.
CPA chairman Micheál Briody said: "It is no surprise that Roscommon GAA have stepped forward to say enough is enough, someone had to say stop sooner or later. It is a fairly serious matter when a county committee feels they need to step in and plead for common sense to prevail.
"For almost two years now the CPA has called for an immediate 'blank canvas' approach to fixing the fixtures.
"Some progress has been made but the lack of real urgency is not acceptable in our view. Behind the recent ESRI and CPA findings and submissions are the lives of young sports people.
"Years and sports careers pass very quickly as this report actually highlights. This in our view places an enormous requirement and responsibility for leadership and decisive action."
The introduction of Tier 2 football competitions is also on the agenda and Briody feels the structure of fixtures needs to be addressed before introducing new competitions.
He added: "We are witnessing a number of alarming developments in the GAA. We were told that no change to the playing calendar could be considered for three years yet here we are with two proposals on the table for Tier 2 competitions in football.
"There is inherent value in a multi-tiered football structure but it beggars belief that this is being brought to the table as yet another incremental change that could sound the death knell for summer club football which is already practically extinct.
"This comes on the back of the GAA-sanctioned breaches of its own rules by allowing tournament matches involving Tier 1 hurling counties in Australia and the United States.
"In some respects yes, that is a matter for individual counties, but it sends out a message that the hierarchy is able to cherry pick its own rule book. One of the recent findings among players was that they needed a break."