The deal seemed preposterous, but the Swans are getting value for money from Buddy Franklin
Email The deal seemed preposterous, but the Swans are getting value for money from Buddy Franklin By Offsiders columnist Richard Hinds
Posted April 09, 2018 04:44:36
Photo: Franklin's thumping 65-metre goal against the Giants was show-stopping. (AAP: David Moir) Related Story: Sydney can't just surf the Buddy wave to victory Related Story: Power charge past Swans as Eagles thump Dogs on Easter Sunday Map: Sydney 2000
With little more than five minutes to play at the SCG on Saturday night, the Sydney Swans cling to a 10-point lead over the Greater Western Sydney Giants in a tense, fiercely contested game.
It is the type of taut encounter needed to add credibility to the so-called Battle of the Bridge. A meeting that was, in its initial versions, a rivalry only in the PowerPoint presentations of the AFL's enthusiastic marketing executives.
From a scrimmage in the middle of the ground, Lance Franklin gets on the end of a handball. Instinctively, he dismisses a hapless Giants' opponent with his big right paw and wields onto his left foot.
External Link: Tweet: Buddy Franklin
The turning circle is so familiar it has a nickname — Buddy's Arc. As Franklin gathers momentum and swallows up the ground there is no chance anyone will impede his stampede. The result seems preordained, a thumping 65m kick that lands precisely between the goal posts.
The Swans have the game won. The one-sided crowd is ecstatic. Later coach John Longmire will be at pains to share the praise and deflect attention from Franklin's starring role. But as they head for the exits, the fans will talk about just one thing. That goal!
It is tempting to describe Franklin's latest show-stopping feat as a moment that money can't buy. But, of course, even the greatest sporting romantic must acknowledge the transactional element in his performances.
The covert $10.2 million operation that brought Franklin to (eastern) Sydney from Hawthorn will always be part of his epic tale.
Yet by matching his undoubted brilliance with unexpected longevity, he is providing an ending those of us who were sceptical about the nine-year deal never imagined.
External Link: AFL tweet: Enjoy all of Lance Franklin's eight goals from Sydney's strong win over the Eagles
Andrew Ireland, the Swans' savvy chief executive, will retire this season. When Ireland signed Franklin in late 2013 after months of secret negotiations, the length of the deal seemed even more preposterous than the eight-figure price tag.
Franklin was 27 when he arrived in Sydney. He will be 36 when he collects the last of his vast annual pay cheques.
Plagued by thumb and shoulder injuries when he arrived in Sydney, it seemed certain Ireland had paid for a Rolls Royce but would leave his successor with a V8 Commodore with 200,000 kilometres on the clock. A limping salary cap liability that would compromise the club's future.
Yet here we are nearing the halfway mark of Franklin's contract and he is playing better than at any stage of his Swans career.
In the opening round against West Coast in Perth he kicked eight goals and, most encouragingly, took several pack marks, the one element that had been missing from his game.
Photo: In the opening round against West Coast, Franklin kicked eight goals and took several pack marks. (AAP: Travis Anderson)
Is Franklin actually underrated?
Such is Franklin's durability that The Age's chief football writer, Jake Niall, recently pondered whether a man who is a seven time All-Australian and four time Coleman Medallist is actually underrated by the football pundits.
As midfielders who have more possession but far less impact on contests line up to collect Brownlow Medals and the various media awards while Franklin is overlooked, it is hard to disagree with Niall's thesis.
There is no question Ireland got value for money. A contract that guaranteed Franklin $700,000 in his first two seasons, $1.2 million in his next three and then $1.3 million, $1.4 million, $1.5 million and $1 million could never be described as a bargain.
External Link: AFL tweet: BUDDY! Can he inspire the Swans? #AFLSwansPower
But, at the very least, the Franklin deal can now be compared to a seemingly outrageous price paid for a house that has continued to increase in value. If $10.2 million was jaw-dropping in 2013, it is merely market price now.
And this is without considering the enormous value Franklin has provided at the turnstile and the merchandise stalls from the moment he walked through the club's front door. If the Swans are the House That Plugger Built, then Buddy has added another wing.
There have been a couple of times when the Franklin deal seemed on a knife-edge. The injuries and depression that forced him out of the Swans team during the 2015 finals had many wondering if things had come unstuck. Although, pertinently, not coach Longmire, whose handling of his team's star forward as a person, not merely a prime asset, has been exemplary.
Inevitably, however, Franklin's publicity-shy off-field persona — he is Lance off the ground, while his alter-ego Buddy pulls on the boots — has only added another layer of intrigue to his performances.
So now there is just one thing missing before the Franklin deal can be hailed as an unqualified success. Buddy's Flag.
The inability to win a premiership with the game's best forward has not been for want of opportunity. In the 2016 grand final against the Western Bulldogs, Franklin was injured in the opening minutes and the Swans did not have the rub of the green (or they were robbed by the men in green if the dark mutterings of some officials and fans were to be believed.)
Sydney needs more than Buddy

Lance Franklin is a freak of sporting nature but he will need help to get Sydney Swans over the line in 2018, writes Andrew McGarry.
Losing their first six games last season meant the Swans needed a tremendous effort to reach the finals. The exertion required to make up lost ground left them as sitting ducks in September.
This time? If Franklin's brilliance inflames expectations, it is the club's excellent youngsters such as Callum Mills, Will Hayward and Oliver Florent who are the fuel on the fire.
Yet again, the Swans have regenerated while still peeking through the premiership window.
It would be poignant if the Swans were to meet the Giants in this year's grand final — the most exciting player in the game against the new franchise that was infuriated when Franklin went to their cross-town rivals behind their backs.
Not a grand final the scalpers would want, but one for contemporary connoisseurs.
Photo: The one thing Franklin still has to give the Swans is a grand final win, after being injured out of the 2016 game against the Western Bulldogs. (AAP: Julian Smith)
Topics: sport, australian-football-league, sydney-2000, nsw, australia
More stories from New South Wales
Supple on Keane support and being Cluxton's understudy
A rain-soaked summer's evening in Paris may have been an unusual setting for to thank Roy Keane for his support, but such is the unusual path Shane Supple's career has followed.
Supple and his Bohs team-mates are currently on a fine run of form, having risen away from the relegation zone into fifth place in the SSE Airitricity League and welcome Cork City to Dalymount Park on Sunday in the FAI Cup semi-final.
It is a far cry from nine years ago when Supple announced his retirement from professional soccer in August 2009, telling then Ipswich manager Keane that he had "fallen out of love" with his profession.
After six years away from the game, where he pursued his interest in Gaelic Football and spent the 2013 season as understudy to Stephen Cluxton with Dublin, he played for Crumlin United in 2015 before signing for the Gypsies in 2016.
A remarkable turnaround saw him called into the Republic of Ireland's end-of-season international friendlies against France and the USA.
It was the encounter at the Stade de France which saw the 31-year-old speak to Keane properly for the first time in nine years.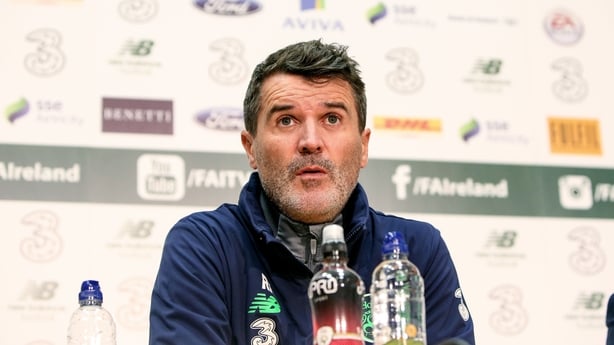 "It was nice to thank Roy for how he handled that whole situation," he told Soccer Republic Extra. "He asked me if I needed any help or if I wanted to take a few weeks off from Ipswich [in 2009]. I think he saw from how I reacted how I made my mind up that it was time to come home.
"Within three days I was out of there, contract cancelled and no issues.
"I said, 'thanks for how you looked after me'".
He also reflected on his time with the Dubs where he had the unenviable task of attempting to dislodge Cluxton as number one choice.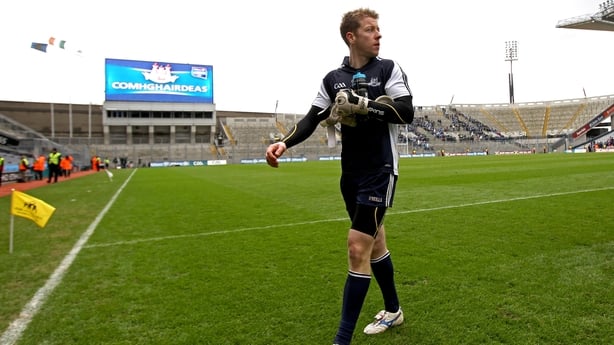 "I went into the panel in 2013 in Jim's first year and spent the whole season involved behind Stephen. I knew I wasn't going to get an opportunity to play as much as I wanted to play. I wanted to play every game.
"I saw there wasn't much opportunity for me so I stepped back"
"It was a big ambition of mine when I came back from England to play for Dublin.
"I saw there wasn't much opportunity for me so I stepped back from that, and there were work commitments as well. Eventually it came back around to Bohs."
He continued to juggle club commitments with St Brigid's and Bohs, but had to step earlier this schedule pushed him to his limits.
One particular weekend in April was "too much" he admits where he lined out for Bohs on Friday night, played senior club championship against Ballymun at Parnell Park the following day before travelling to the Brandywell for a game against Derry City on Monday night.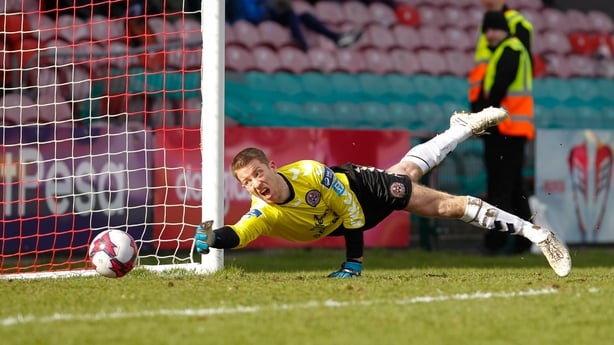 Now he is fully focused on the Gypsies and says the recent 3-1 victory away to St Patrick's Athletic was another positive note.
"We're on the crest of a wave at the moment. The young lads stepped up at St Pats where the other lads had left off.
"The confidence is high and the second half of the season has been easier for us. The first half was difficult in terms of recovery, especially for us because we are part-time. Lads are working, so recovery is not as bad.
"We have a game now every week, it's been a lot easier. We can work on things on training and we have a settled team."