Tory vice-chair admits hacking Labour MP's website
By Greg Heffer, Political Reporter
A rising star in the Conservative Party has apologised after she admitted she hacked a Labour MP's website and altered its content.
Kemi Badenoch, the hotly tipped MP for Saffron Walden, made the confession in a video obtained by The Mail On Sunday.
Asked what is the naughtiest she's ever done, the 38-year-old replied: "About 10 years ago I hacked into a Labour MP's website and I changed all the stuff in there to say nice things about Tories."
Mrs Badenoch did not name the Labour MP in question.
Under the Computer Misuse Act 1990, unauthorised access to computer material can result in two years' imprisonment and/or a fine.
Mrs Badenoch said: "This was a foolish prank over a decade ago, for which I apologise."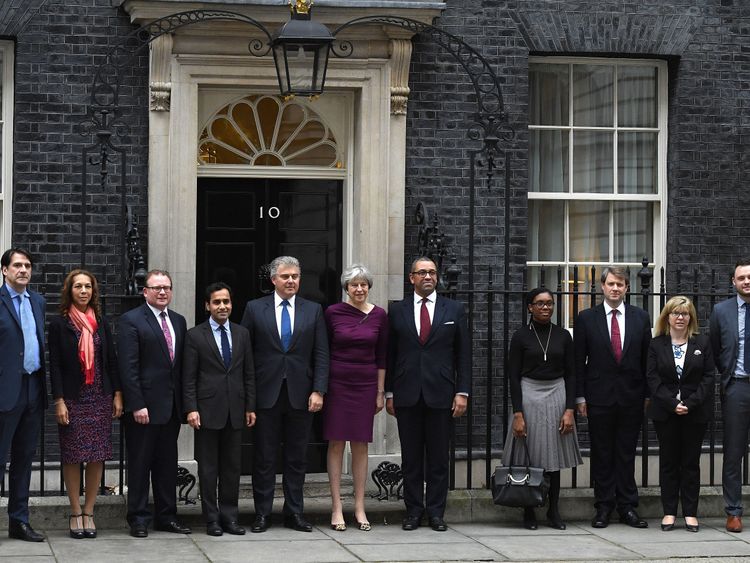 Mustafa Al-Bassam, a PhD researcher at University College London's computer science department, revealed he had submitted a crime report to the UK's national reporting centre for fraud and cyber crime.
He posted on Twitter: "I hope they do take this matter seriously, and apply the law equally to Tory MPs as they do to hacktivists who have gone to jail for less."
Mr Al-Bassam also speculated the Labour MP in question could be the party's former deputy leader Harriet Harman.
In 2008, it was reported Ms Harman's personal website was hacked and updated with a post apparently announcing her defection to the Conservative Party.
Another hacked post called for Londoners to support Boris Johnson's bid to become Mayor of London.
Mrs Badenoch, a former London Assembly member, was elected an MP at last year's snap general election.
She has since been appointed Tory vice-chair with responsibility for selecting candidates for the 2022 election.
More from Politics
Tories attack Russia and 'useful idiot' Jeremy Corbyn over Salisbury poisoning

Row as Government insists violent crime rise not due to police cuts

Government to announce new acid and knife laws to tackle violent crime

Good Friday Agreement chair George Mitchell issues Brexit warning

Government 'cannot bury head in the sand' amid crime surge, London MPs say

Spy poisoning: Russia warns UK it is 'playing with fire' at UN meeting
Mrs Badenoch was also given the honour of introducing Theresa May at last year's Conservative Party conference.
On Friday night, she was guest speaker at the annual dinner of the Prime Minister's constituency party.
The curious case of the electric carving knife
The Black + Decker ComfortGrip 9-inch electric knife.
Black + Decker
Electric knives are cheesy antiques, right? You have to plug them in, they're noisy, and seem ridiculous when compared to a traditional knife, especially if you own a quality tool that you keep sharp. They have an old-school vibe, but not good old-school. More like: an unnecessary gadget that Mad Men-type ad execs would hawk.
But a good electric knife can do one thing really well: it will cut roast meat cleanly, leaving a tidy little strip of skin on top of each slice. In other words—they are silly, but if you're ever going to use one, it's Thanksgiving and other occasions like it. The moments when you want things to be pretty.
Last year, staffers at Cook's Illustrated magazine—the magazine of the well-respected America's Test Kitchen—tried out four electric knives. The results surprised the publication's editor-in-chief.
"I was super skeptical when they started that testing," says Dan Souza, editor of Cook's Illustrated. "It's just kind of this relic from the 50s and 60s." One problem is the noise; they can be "as loud as a lawnmower."
"I would say that they're not taken especially seriously," he adds.
But one model stood out for them: the Black + Decker ComfortGrip 9-inch electric knife, which is $20. An electric knife has two side-by-side blades that move back and forth quickly, meaning that you don't need to saw manually—you just push down. It looks like a power tool you'd find in a wood shop, not a kitchen cabinet.
"You can get a very clean cut that way," he says. "That winning one did do a really nice job of keeping a perfect little strip of crispy skin on every single slice."
To get the most out of an electric knife, first separate the chunks of breast meat from the cooked bird—a task for which Souza recommends just using a regular chef's knife. Then, place meat on a cutting board, skin up, and use the electric knife to cut it across the grain.
The knife breaks down into multiple pieces.
Black + Decker
"And that's really where I think the electric knife excels, with no tearing of the skin, and really, really clean slices," Souza says. The tool would also come in handy with a cooked piece of roast beef, or pork roast.
A good one can help people out who don't frequently cook, or carve, a turkey. "It does solve a potentially pretty big problem for home cooks," Souza says. "And there's the added pressure of you're wanting it to be this gorgeous thing on Thanksgiving."
David Bruno, a chef and associate professor at the Culinary Institute of America, agrees that an electric knife can come in handy when slicing a bird. "For someone who may have a drawer full of knives, what I generally find—unless they're really a knife aficionado—most of those knives are really dull," he says. A dull knife will rip the skin, but in this context, the electric knife could produce nice, tidy slices.
"In general, we don't use a lot of them," he adds. But they do have a niche. "People that are making food to display for competing, that really need an accurate slice, have been known to use these knives before." Some competitive barbecue cookers use them to cut their meats—but it's a controversial topic that has spawned countless arguments.
Of course, you don't need one. "I still really believe that if you have a super sharp knife, and you take really great care of it, you can absolutely carve a turkey with great success," Souza says.
Not sold on the idea of an electric knife? That's fine. The test kitchen at Saveur—one of Popular Science's sister publications—rounded up some blades to consider for your kitchen. You don't even need to plug them in. One of the knives on their list is a carver that's only $7. Want more choices? At the higher end is this $340 tool from Town Cutler, and in the middle is a $140 option. Bon appetit.