Tory vice-chair admits hacking Labour MP's website
By Greg Heffer, Political Reporter
A rising star in the Conservative Party has apologised after she admitted she hacked a Labour MP's website and altered its content.
Kemi Badenoch, the hotly tipped MP for Saffron Walden, made the confession in a video obtained by The Mail On Sunday.
Asked what is the naughtiest she's ever done, the 38-year-old replied: "About 10 years ago I hacked into a Labour MP's website and I changed all the stuff in there to say nice things about Tories."
Mrs Badenoch did not name the Labour MP in question.
Under the Computer Misuse Act 1990, unauthorised access to computer material can result in two years' imprisonment and/or a fine.
Mrs Badenoch said: "This was a foolish prank over a decade ago, for which I apologise."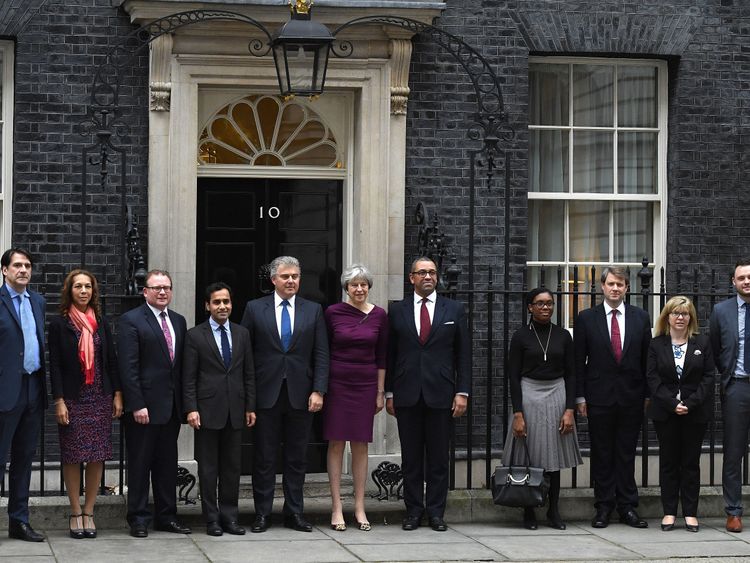 Mustafa Al-Bassam, a PhD researcher at University College London's computer science department, revealed he had submitted a crime report to the UK's national reporting centre for fraud and cyber crime.
He posted on Twitter: "I hope they do take this matter seriously, and apply the law equally to Tory MPs as they do to hacktivists who have gone to jail for less."
Mr Al-Bassam also speculated the Labour MP in question could be the party's former deputy leader Harriet Harman.
In 2008, it was reported Ms Harman's personal website was hacked and updated with a post apparently announcing her defection to the Conservative Party.
Another hacked post called for Londoners to support Boris Johnson's bid to become Mayor of London.
Mrs Badenoch, a former London Assembly member, was elected an MP at last year's snap general election.
She has since been appointed Tory vice-chair with responsibility for selecting candidates for the 2022 election.
More from Politics
Tories attack Russia and 'useful idiot' Jeremy Corbyn over Salisbury poisoning

Row as Government insists violent crime rise not due to police cuts

Government to announce new acid and knife laws to tackle violent crime

Good Friday Agreement chair George Mitchell issues Brexit warning

Government 'cannot bury head in the sand' amid crime surge, London MPs say

Spy poisoning: Russia warns UK it is 'playing with fire' at UN meeting
Mrs Badenoch was also given the honour of introducing Theresa May at last year's Conservative Party conference.
On Friday night, she was guest speaker at the annual dinner of the Prime Minister's constituency party.
Obesity 'to kill more women than smoking in 25 years'
Obesity is to overtake smoking as the leading cause of preventable cancer in British women, according to a new paper.
If trends continue, obesity-related cancers could account for 23,000 cases by 2035, compared to 25,000 caused by smoking in the same year, said the report by Cancer Research UK.
By 2043 obesity is likely to cause more cancer cases than smoking.
The conclusions were based on projections, and researchers stressed that there remain many uncertainties in predicting what will cause cancers in the future.
As fewer people smoke and obesity rates increase, however, the gap will continue to close.
With higher rates of obesity and fewer smokers among women than men, the narrowing is happening faster among women.
Blog post: How we estimated when obesity might catch smoking as the top cause of cancer: https://t.co/UmTgnmth6A pic.twitter.com/7EyEF7dnMU

— Cancer Research UK (@CR_UK) 24 September 2018
The charity is now launching a campaign to raise awareness of the link between cancer and obesity, and to encourage a healthier lifestyle.
It said only around one in seven people in the UK are aware of the link between obesity and cancer.
"The decline in smoking is a cause for celebration. It shows how decades of effort to raise awareness about the health risks plus strong political action including taxation, removing tobacco marketing and a ban on smoking in indoor public places, have paid off," said professor Linda Bauld, a prevention expert at the charity.
"But, just as there is still more to do to support people to quit smoking, we also need to act now to halt the tide of weight-related cancers and ensure this projection never becomes a reality."
Measures suggested following the research including a ban on junk food adverts before 9pm and restrictions on promotions of unhealthy food and drink.
"Obesity is the new smoking, one of the greatest public health challenges of our generation," a spokesperson for NHS England said.
"Expanding waistlines also mean a heavier burden for taxpayers which is why, as we draw up a long term plan for the NHS, we are exploring all options to help patients to help themselves and help the NHS."
More from UK
Infected Blood Inquiry opens: Contaminated blood victims seek answers

Petition launched for permanent leaders' TV debates

Police officers help deliver baby girl in five minutes

LIVE: Brexiteers unveil alternative EU divorce plan

Thomas Cook shares dive after 'hot weather' profit warning

AI soldiers: Army trials battlefield scanning technology
In releasing the report, Cancer Research says it hopes to prevent the projected rise in obesity-related cancers becoming a reality – by taking cues from success in stopping smoking.
In the first half of the 20th century it is believed that up to 80% of men smoked, but today around 17% of men are smokers.