US reportedly confirmed Kim Jong Un is willing to discuss denuclearization
North Korea has told the US it is willing to discuss denuclearization, numerous media outlets reported Sunday.
The discussion would occur during an upcoming summit between President Donald Trump and Kim Jong Un.
This appears to confirm recent reports by South Korea and China that Kim has indicated he is open to denuclearization.
But Pyongyang and Washington probably have very different visions of denuclearization, with North Korea previously indicating the offer is conditional on US actions.
For the first time, North Korea has reportedly told the US it is willing to discuss denuclearization, a number of media outlets reported Sunday.
North Korea is willing to discuss the topic during an upcoming summit between leader Kim Jong Un and President Donald Trump, an administration official told Reuters, NBC News, and Bloomberg on Sunday. It is unclear whether this is the same source or independent accounts confirming the information.
Despite the report, Washington and Pyongyang may have different visions of "denuclearization."
The US wants North Korea to completely abandon its nuclear weapons program, while the North has previously said it would only do so if US troops left South Korea and end its commitment to defend the South and Japan with nuclear weapons.
At the very least, the news appears to reinforce previous indications that Kim is willing to discuss the prospect of denuclearization in some manner.
After visiting Pyongyang last month, a South Korean envoy announced Kim had said it was "his father's dying wish" to achieve denuclearization.
But South Korea has a vested interest in making it appear the North is willing to soften its stance, in the hope the US would be more likely to meet with the North. There was suspicion among experts that South Korea may have embellished Kim's words, and that the North Korean was unlikely to be open to denuclearization or would have even used the word.
Yet Kim then raised the topic again, several times, when he recently met with Chinese President Xi Jinping in Beijing.
Days ago it was revealed secret high-level talks have been occurring between the two countries ahead of a bilateral summit. CIA Director Mike Pompeo — who is Trump's pick for Secretary of State following the ouster of Rex Tillerson — has been leading the talks, several administration officials told CNN.
According to Reuters, intelligence officers in both countries are using a backchannel to communicate while the State Department uses its United Nations mission as an intermediary.
SEE ALSO: Beijing may be 'seething' over Kim Jong Un's hasty visit to China because it wasn't properly stage-managed
Join the conversation about this story »
NOW WATCH: Why Russia is so involved in the Syrian Civil War
Renationalisation plans not 'a return to the past'
By Alan McGuinness, political reporter, in Liverpool
John McDonnell has hailed Labour's plans to renationalise the water industry, telling the party's conference it is part of "the greatest extension of economic democratic rights that this country has ever seen".
The shadow chancellor told Labour's annual gathering in Liverpool that the policy would "put this essential service back in the hands of local councils, workers and customers".
Mr McDonnell said the party's plans for sweeping nationalisation of industries like water, energy and rail would not be "a return to the past" but the catalyst for genuine change.
"We don't want to take power away from faceless directors only to centralise it all in a Whitehall office, to swap one remote manager for another," he told delegates.
He said the party was primed to implement a radical programme of nationalisation as soon as it entered Downing Street.
Mr McDonnell told the hall Labour would ensure there would be "unprecedented openness and transparency" in how the water industry was managed, as well as announcing a "large scale consultation" on "democracy in our public services".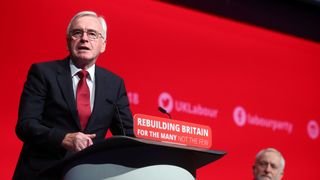 Mr McDonnell said an industry shake-up would see it reorganised under new Regional Water Authorities (RWAs).
These would include local councillors, worker representatives and representatives of community, consumer and environmental interests.
He said executive and director level jobs would be re-advertised on "dramatically reduced" salaries and denounced the "scandal" of an industry which has paid out £18bn in dividends as bills rocketed by 40% in real terms.
As for what would happen to shareholders in the existing private companies, Mr McDonnell said they would be compensated with bonds in a way that would be "cost neutral" for the taxpayer.
However, the party has made clear that shareholders' payments could be cut if there is evidence of asset-stripping, pension fund deficits or state subsidies since privatisation – and compensation being forfeited altogether has not been ruled out.
Mr McDonnell promised: "We are ending the profiteering in dividends, vast executive salaries, and excessive interest payments.
"Surpluses will be reinvested in water infrastructure and staff, or used to reduce bills."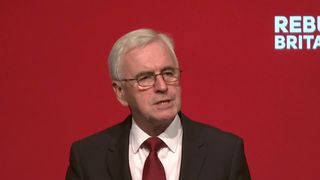 Mr McDonnell said aPublic and Community Ownership Unit in the Treasury would take charge of the return of water, energy, rail and the Royal Mail to public ownership.
The shadow chancellor also announced plans to make employees part-owners of their company if the firm employs more than 250 people, a policy the party claims could leave workers up to £500 a year better off.
Mr McDonnell pledged to bring together institutions like churches, unions and pension funds as part of a concerted campaign to apply pressure to firms to stop avoiding taxes.
The Conservatives said the employee ownership policy was "yet another tax rise" which could deter companies from taking on staff, while the Confederation of British Industry warned it would drive down investment.
The business group also expressed concerns about Mr McDonnell's speech more generally, warning "the fallout…would be a drop in living standards".
Director-general Carolyn Fairbairn said: "From renationalisation to dilution of shares, Labour seems determined to impose rules that display a wilful misunderstanding of business.
"Their policies would immediately reduce the value of shares owned by ordinary people by over 10% and hobble UK ambitions to compete on a global stage."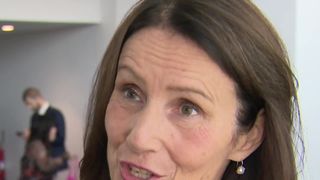 Mr McDonnell also said Labour was ready to fight and win an election, telling the Tories: "Bring it on."
There was loud applause in the hall when he said: "Whenever the general election comes, we are ready.
"Ready to campaign for victory, ready for government, ready to build the future.
"And … we'll be proud to call that future socialism."
Labour's annual gathering has been dominated by calls for it to back a second Brexit referendum.
More from John McDonnell
Labour backtracks over new Brexit referendum Remain option

Staff will share ownership of firms under Labour plan

McDonnell: No borrowing needed to renationalise rail

Labour to 'restore balance of power' with radical workers' share plan in manifesto

McDonnell 'worried' about prospect of Labour split

John McDonnell warns second EU referendum could prompt far-right violence
Mr McDonnell sparked anger on Monday when he said such a vote would not include an option to stay in the EU, but rather give voters a say on the "nature" of a deal with Brussels.
In his speech he made clear that his preference was for there to be an election to decide the issue, and added: "We are keeping all the options open for democratic engagement."